Jan 26th 2023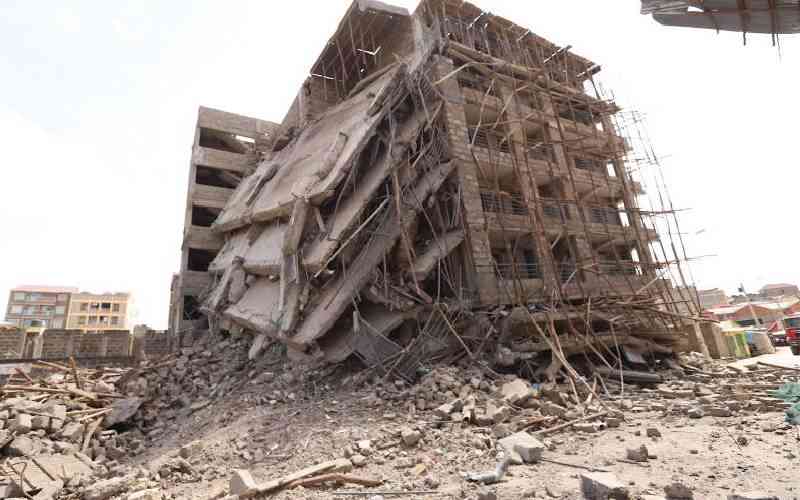 In the past five years, an estimated 200 people have lost their lives as a result of buildings collapsing on them.
While regulators such as the National Construction Authority (NCA) have been blamed for weak oversight, the agency has been highlighting its efforts to stem the collapse of buildings.
NCA now says that about 60 per cent of construction projects are non-compliant. "It is true that we have experienced a number of collapses, but we also have solid constructions which are standing," said NCA General Manager of Registration Susan Rutto during a recent stakeholder forum.
"As an authority, we have been able to inspect over 26,000 construction projects that are ongoing in the country," she added.
Ms Rutto said there were few collapses in the recent past and NCA strived to "reduce or eliminate the issues of construction failures completely".
According to NCA, buildings collapse due to flouting of zoning roles and over-development where developers send the wrong building plans for approval with an expectation of high returns on investment.
Other reasons for building failures include poor workmanship, rogue contractors, use of substandard material, poor maintenance, failure to undertake a geo-technical study, building overload and developer's greed, among others.
To cushion the collapse of buildings, NCA explained that it was constantly carrying out quality checks.
Rutto said that when buildings are found to be non-compliant, a suspension order is issued and a unit to enforce the orders was being formed.
"When we issue suspension orders, we expect that no construction works will be carried out until the issues of non-compliance are addressed. But we find out that some of the developers will still carry out construction work, despite the suspension orders," she said.
"We are also working in collaboration with other agencies and counties on the approval of projects."
The authority says that to date, there are several suspension orders given to construction projects.
"When we look at the number of quality assurance we carry out, so far, we have 60 per cent of our sites are non-compliant. Out of these, several suspension orders have been issued and we are following up to ensure that no works are being carried out on those sites," Rutto.
Mixed-use developments
Data by the National Building Inspectorate (NBI) on building tragedies in the past five years, shows that 87 buildings have collapsed. About 200 people have lost their lives and 1,000 were injured.
Of all the buildings recorded to have collapsed, 65 per cent of the collapsed buildings were residential, 25 per cent of the collapsed buildings were commercial, and 10 per cent of the buildings were mixed-use developments.
In the same period, also 4,000 houses were found unsafe for human habitation in Kenya. More data from the Kenya National Bureau of Statistics (KNBS) shows that the construction sector's performance was slower in 2021 as compared to 2020 where it recorded about 10 per cent growth.
The growth in 2020 was occasioned by continuous public investment in road infrastructure.
Some of the major road construction activities that boosted the performance of the sector include the Nairobi expressway and the rehabilitation of the Longonot-Malaba metre gauge railway.